Business Intelligence Solutionfor Companieswith UniqueInformation Technology
Revolution in the business intelligent systems from  DataLogic Ltd.
BISCUIT is a unique business intelligence solution, which automatically creates the company's new Leader Information System from the users' recent queries by using BIG DATA analytical methods. The biggest benefit of BISCUIT, that it can be implemented under very short time without building a complete data warehouse. The software uses a standard WEB service as a thin client, simultaneously serving all of the user-defined interfaces, which can be the following:
Excel (Browser, Pcs using Windows, mobile devices )
Dashboard (browser)
Riport (browser)
How does automatic BIG DATA analysis-based implementation works?
BISCUIT builds the concept of MIS system and the given "concepts'" implementations automatically, based on the users' habits.  It uses the databases and logfiles (persons, reasons, occasions, systems of queries) to create the implemented system automatically without building a data warehouse.  The new MIS system is ready to use after some minor calibrations.
Customized decision support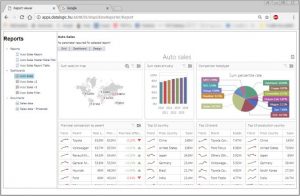 One of the most important benefit  of thr BISCUIT MIS system, is that the same WEB service serves all the work interfaces. Templates  of reports and dashboards can be created in the web browser by using the parameters and concepts created by BISCUIT.
Individually assembled special reports can work simultaneously on WEB (Intranet) and in local Excel, where data can be processed further.
Excel on two different platforms are fully compatible with each other in both directions.
Normal Excel:
WEB-based Excel: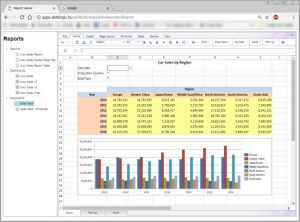 All information calculated by the system on these surfaces can be subtracted by the appropriate analytical data. BISCUIT is able to export, publish and share Reports and Dashboards created by the user in the most popular formats  (HTML, Excel, PDF).
Take advantage with BISCUIT system!
It is available both in cloud and the user's own hardware environment
Extremely quickly implementable MIS solution
No need for building a data warehouse
Unique Excel connection
Introduction and maintenance is possible with minimal expert work, no highly qualified BI experts needed for operation and maintenance
The solution is compatible with every system's database
Reports created can be easily edited by the users, so by implementing the system, the need for information can be easily satisfied.
Try it here:
User: cars    Password: cars

We are looking forward to meet you
at the official intruduction at the TrusTech show!
Date: November 28-30, 2017
Location: Palais des Festivals, Cannes FRANCE
Stand number: Marina D 084