DataLogic Ltd. provides solutions to IT problems which are used by more than 300 satisfied CUSTOMERS. To date our solutions made it possible to our clients to manage more than 10 billion EUR of liquidity and revenue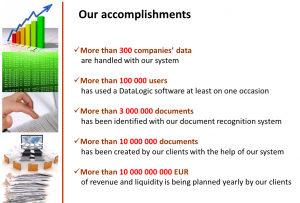 Our products and solutions:
ADATBÁNYÁSZ (Data Miner) Leadership Information and Controlling system is one of our earliest products, bit it is still used by most of our clients, and it is very successful in the Hungarian market. Our WEB based solutions are cutting edge technology. Their operation is extremely safe and they are independent of platforms or databases. Also, they support telework, which is getting more and more popular today. By using the solutions offered by DataLogic Ltd. makes it possible for hundreds of employees to work from home for our client.
In addition of creating and customizing our software products, we also provide additional advisory services.  (Examples: reorganization of Business Process Revision (BPR), and the management of the quality control of the full IT system).
DataLogic Ltd. is a Microsoft Certified Partner, and operates according to MSZ EN ISO 9001:2001 since 2004.
Why DataLogic?
Because we have created solutions to our customers in a cost-effective way with a vey short implementation period. During the last years we have gained a lot of experience and references in the field of ready-to-use IT solutions and software development customized for the specific client.